Spare parts request with vehicle identification number VIN
Need spare parts for your vehicle? Fill in this form with Brand and Model of your vehicle, the vehicle identification number VIN, your contact details and parts you need. You will be contacted by one of our operators who will give you all the information and assistance you need.


For any type of request, send us an email to [email protected]
What it's VIN?
VIN or Vehicle Identification Number (wiki), it's a number with 17 figures who uniquely identifies your vehicle.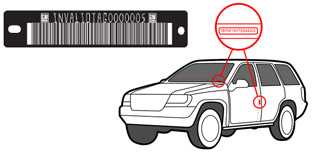 With this number we can trace correctly the model and version of your vehicle.